Erica van Loon [The Netherlands]
The Longest Wave We Surf
1. Statement by Erica van Loon
The Longest Waves We Surf reflects on ideas around ecology by relating physical movements of human and non-human bodies, it specifically focuses on movements with a cyclic character. Think of how slow earthquakes vibrate barely noticeable seismic waves throughout the body of the earth, at frequencies so low that we need to drill holes in mountains to sense them; of aikido movements that spiral and embrace, physically and philosophically; and an ant that lives high up in the canopy of tropical trees and that evolved techniques so she falls without ever hitting the ground.

The input for this project was gathered during my residency at ARCUS Project and during the Labverde Arts Immersion Program in the Brazilian Amazon, which I attended just before coming to Japan. The video installation I am developing at ARCUS Project combines images, text and sound inspired by these antipodes.

In part my research itself was physical; I recorded footage and was taught while sweating in the middle of the rainforest, training on tatami mats in the dojo and ascending sacred mountains. The installation invites the spectator to engage on a physical level as well.

2. Comment by Kodama Kanazawa
[ Guest Curator 2018 / Independent Curator/ Senior Deputy Director of Curatorial Affairs, Towada Art Center ]
Already strongly interested in the physical connection between human beings and the earth, Erica van Loon explored several different topics during her residency in Japan and conducted research on them at the same time. One of these was aikido. Van Loon actually received training in the martial art and learned some aikido moves. In aikido, you utilize your opponent's energy to protect yourself. Van Loon said that she was impressed by the idea that "redirecting the rhythm and intent of someone's movement enables you to attune to one another." She also went to meet a seismologist in Tokyo and learned about slow earthquakes, which occur over the course of a few days, months or even years. Van Loon's interest in the subject stemmed in part from the fact that she experienced her first earthquake during her residency. She also read up on Cephalotes atratus, a species of ant that she encountered during a stay in the Amazon just before coming to Japan. The ant lives its entire life on a tree. Whenever it is danger of falling, the creature glides through the air to change direction and jumps back toward the tree trunk.

Van Loon created a video installation made up of moving images and sound that deals with the ant's behavior, the aikido technique of rotating the arm, and slow earthquakes, which extend throughout the world. Her presentation shows the outcome of her explorations into the dynamics of circulation in the ecosystem through both a scientific and physical approach.


Special Thanks:
Shinya Aoyama, Satoshi Ikeda, Kohei Kanomata, Takahiko Kamiyama, Joseph Kudirka, Cihad Caner, Tamaki Sugiyama, Hiroshi Sugiyama, Yukari Sugiyama, Tetsuya Suzuki, Yudai Suzuki, Erika Ceruzzi, Kaname Takahashi, Rintaro Takahashi, Masatoshi Tagami, Akiko Takeo, Curtis Tamm, Santiago Diaz Escamilla, Taeko Naruko, Rosie Heinrich, Fabricio Baccaro, Hirokazu Hayashi, Hiroshi Hara, Amy Pickles, Steve Yanoviak, Hideki Yamashita, Teruaki Yamanoi, Daisuke Watayo
North Ibaraki Geopark Promotion Council, North Ibaraki Geopark GeoNet HITACHI, Studio OZ, Tsukuba Aikido-kai, Tokyo University earthquake Research Institute, Labverde
青山 真也, 池田 哲, 鹿又 亘平, 神山 貴彦, ジョセフ・クディルカ, ジハド・ジャネル, 杉山 たまき, 杉山 洋, 杉山 ゆかり, 鈴木 哲也, 鈴木 雄大, エリカ・セルジ, 高橋 要, 高橋 臨太郎, 田上 正敏, 竹尾 明子, カーティス・タム, サンティアゴ・ディアス・エスカミリア, なるこ たえこ, ロジー・ハインリッチ, ファブリシオ・バッカロ, 林 宏和, 原 広, エイミー・ピクルス, スティーヴ・ヤノヴィアク, 山下 秀樹, 山野井 照顕, 済陽 大介
茨城県北ジオパーク推進協議会, 茨城県北ジオパーク ジオネット日立, スタジオOZ, つくば合気道会, 東京大学地震研究所, ラブヴェルデ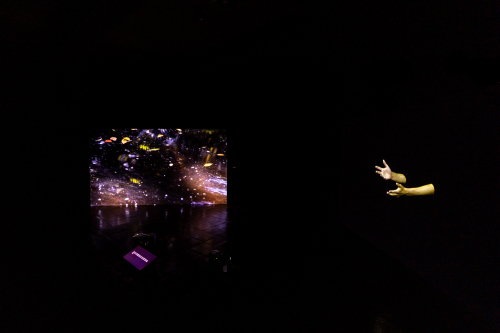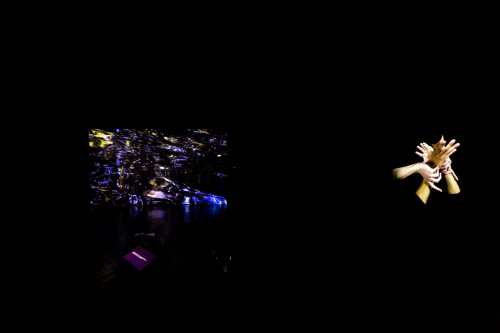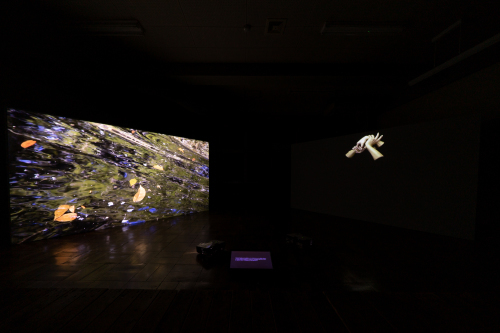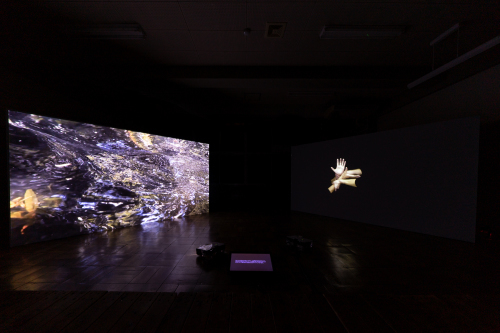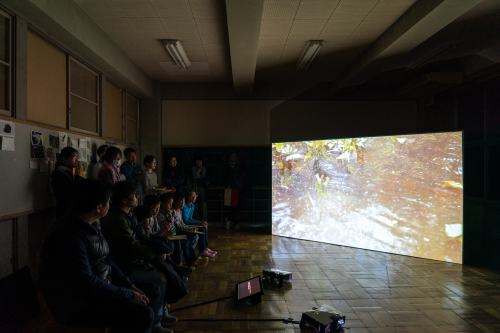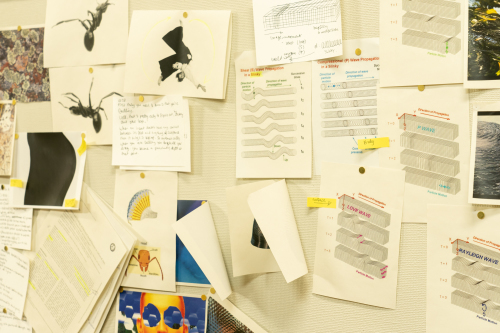 Photo by Hajime Kato
Erika Ceruzzi [USA]
F1

1. Statement by Erika Ceruzzi

F1 is an installation; an environment to experience my research surrounding transgenic silk in Japan. F1 temporarily replaces the room number of my studio 1 and refers to an F1 hybrid, which in biology, classifies the offspring of two distinct parental lines.

My interest in genetically modified silkworms began with a fascination of silk's structural properties. It is a hyper strong yet delicate, biocompatible fiber. In the United States, silk is being developed as a potentially bulletproof material for the military. This is possible through genetic engineering of spider DNA within the organism of the domesticated silkworm (Bombyx mori).

During the course of my research, I discovered that the relationship between human and silkworm is intensely intimate.

For generations, even as raw silk became a major export and source of economic growth for Japan, silkworms were raised in people's homes, in rural regions where the silk industry had taken root during the Meiji Restoration.

With optimal conditions in question, I invite the possibility of genetic entanglement between silkworm and human. The synthesis occurs not in a highly technical lab, but rather, in a kind-of residential research complex. It is a hypothetical space, incomplete, and stripped down as a mere framework for imagination. I've altered elements of the former classroom in order to subtly re-contextualize the environment into a domestic setting.


2. Comment by Kodama Kanazawa

[ Guest Curator 2018 / Independent curator
/ Senior Deputy Director of Curatorial Affairs, Towada Art Center]
After learning that silkworms were being genetically engineered to spin spider silk for the U.S. military, Erika Ceruzzi developed a strong interest in the political significance of the insect. During her residency in Japan, Ceruzzi discussed a variety of topics with the curator and the staff, including the long history of Chinese silk production, which began before the Common Era; the Silk Road, which connected various regions in Eurasia; and the role that the silk industry played in the modernization of Japan. She also considered some less apparent sides of the subject, such as the exploitation of female laborers and the study of silkworms in genetic technology. In addition, Ceruzzi made research trips to the Tomioka Silk Mill, an active silk mill and a silkworm farmer in Gunma, the Silk Museum in Yokohama, and the National Agriculture and Food Research Organization (NARO) to broaden her knowledge of silkworms, sericulture, and the relationship between people and the insects.

In Open Studios, Ceruzzi presented the results of her research in the form of an installation. One notable aspect of the display related to the phenomenon of double cocoons – a cocoon created by two silkworms that is normally not suitable for commercial use. Ceruzzi also fabricated slippers for her studio visitors – a reference to the slippers required to enter the laboratories at NARO. This suggests her sensitivity to local differences such as notions of hygiene and ritual behaviors.

You might say that Ceruzzi set out to discover the geographical, historical, and physical politics contained in the material silk (a fabric used to make sculpture) and its origins.
Special Thanks:
Tsunenori Kameda, Keiko Kimura, Kyoko Koshiishi, Cihad Caner, Tetsuya Suzuki, Curtis Tamm, Michiko Noguchi, Shinsuke Hayashi, Hiroshi Hara, Erica van Loon, Hideki Yamashita
亀田 恒徳, 木村 恵子, 輿石 京子, ジハド・ジャネル, 鈴木 哲也, カーティス・タム, 野口 美智子,

林 慎介, 原 広, イリカ・ファン・ローン, 山下 秀樹

Usuiseishi Co., Ltd., Silkworm Farmers in Gunma Prefecture, National Agriculture and Food Research Organization, Shiina Tatami, Tomioka Silk Mill

碓氷製糸株式会社, 群馬県の養蚕農家様, 国立研究開発法人 農業・食品産業技術総合研究機構, 椎名畳店, 富岡市・富岡製糸場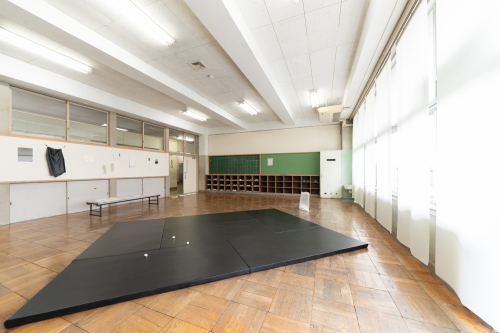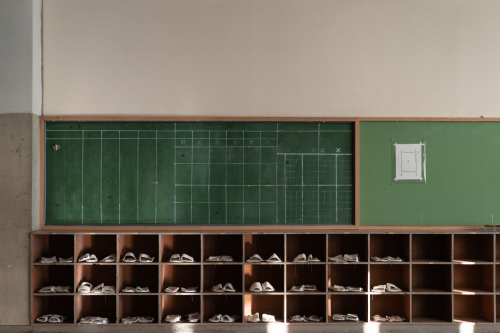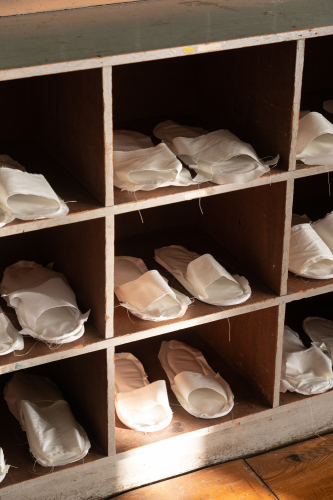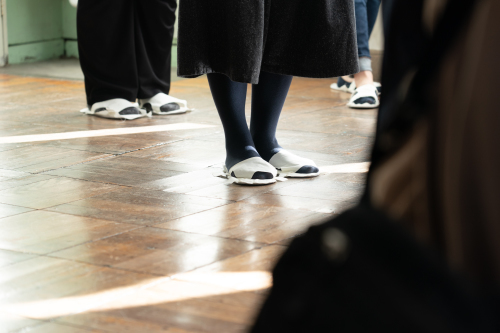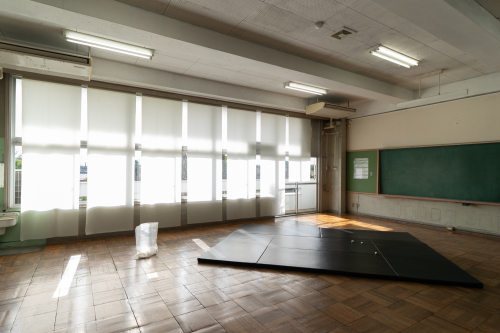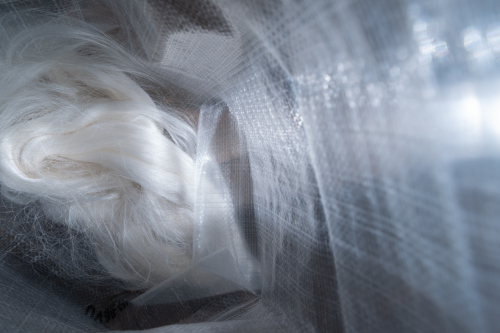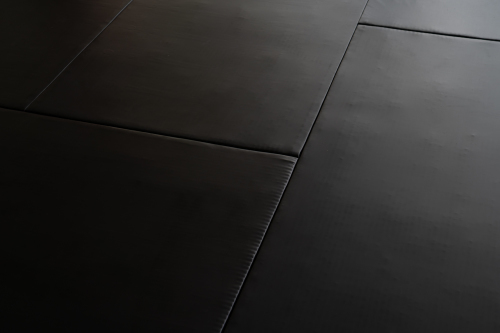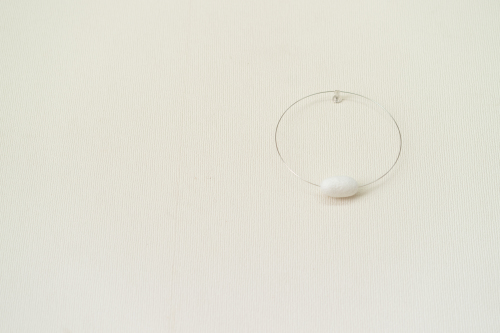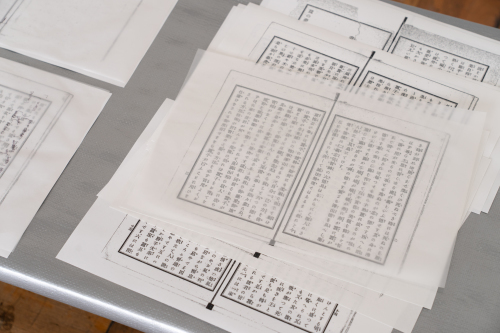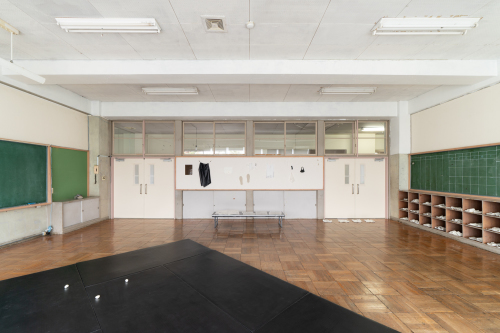 photo: Hajime Kato

Cihad Caner [Turkey]
Demonst(e)rating the untamable monster
1. Statement by Cihad Caner
The "others" of this story are monsters. Their frequented places are those that the maps do not show, the ships are not moored, and the compasses are surprised. It's a landless country. Where the world ends. Rumor has it that wild things live in a remote realm. These "other" figures are the inhabitants of the border region where the mind is weakened and fantasies flourish.

The monsters provoke us to break down our built-in categories and rethink. They threaten the known with unknown and leave us with fear and trembling. They are driven to hell or heaven, or they are driven out of the human community and sent to the land of foreigners. The body of the monster is a political claim on its own.

With its existence, it destroys all the assumptions that are fundamental to human beings and social stratification. The monster does not know paradise; it is not made of clay, so it cannot dream of returning to the dust.

The project focuses on the image of the "other" as monster that finds itself in the mechanisms of dominant image production with very specific images. The artist created fiction-animated avatars inspired from various monster illustrations in ancients manuscripts, Acaibu'l-Mahlukat ve Garaibu'l-Mevcudat by Zekeriya ibn Muhammed Qazwini, Siah-Qalam's drawings and Japanese yokais (monsters and supernatural characters) Gazu Hyakki Yagyō written by Sekien Toriyama.

2. Comment by Kodama Kanazawa
[ Guest Curator 2018 / Independent Curator/ Senior Deputy Director of Curatorial Affairs, Towada Art Center ]
Towns devastated by bombs, surges of refugees without any place to live, people in tears…. The more tragic photographs of reality are, the more readers they attract. Bewildered by the fact that news photographs are destined to include an element of entertainment, one-time photojournalist Cihad Caner began searching for another way to express reality.

In Japan, Caner experimented with a new approach by combining Mesopotamian monsters with traditional Japanese yokai (supernatural creatures). Monsters and yokai are "others" – symbols of incomprehensible entities emanating from the outside. By scrutinizing and digesting these forms, which were developed over hundreds of years, Caner attempts to convey certain realities that he has come to understand as an individual living in the present era.

For Open Studios, Caner wrote a story combining fictitious and factual information about yokai for a lecture performance. He will also screen 3D animated works in which characters that are an amalgam of 13th-century Mesopotamian monsters and traditional Japanese yokai let out agonized cries and sing. Searching for possibilities in the "translation" of these expressions, Caner provides encouragement to those who are confronted with cruel realities.


Special Thanks:
Satoshi Ikeda, Kiyoshi Ono, Tetsuya Suzuki, Erika Ceruzzi, Kaname Takahashi, Hiroshi Hara, Erica van Loon, Yukari Miyajima, Rin Miyajima, Kayoko Muraishi, Hideki Yamashita, Teruaki Yamanoi, Daisuke Watayo, Keiko Wachi, Ebuzer Caner, Zehra Güveli, Marta Ponsa, Seda Yildiz

Doronko Club, Meijin-Kai

池田 哲, 小野 清, 鈴木 哲也, エリカ・セルジ, 高橋 要, 原 広, イリカ・ファン・ローン, 宮嶋 ゆかり, 宮嶋 凛, 村石 かよ子, 山下 秀樹, 山野井 照顕, 済陽 大介, 和地 恵子, どろんこクラブ, 名人会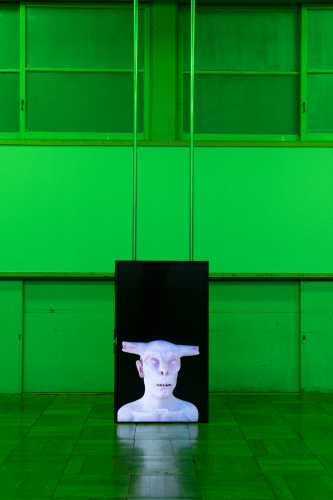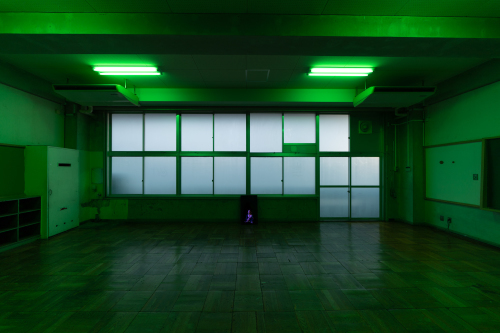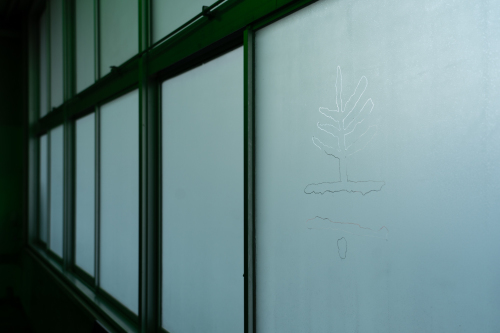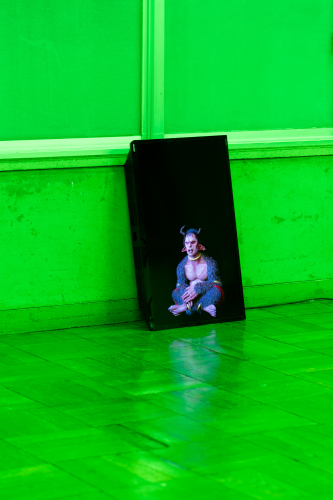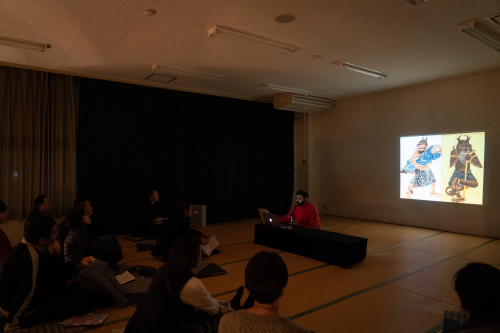 Photo by Hajime Kato
みなさん、こんにちは。藤本です。
今年から始まった新事業、AIR Bridge第2回目について紹介します。舞台は宮城県石巻市。
AIR Bridgeとは、設立から25年目を迎えるアーカスプロジェクトの経験と歴史を元に、様々なアーティスト・イン・レジデンス運営団体、またはこれから運営を始めようとしている団体と協働することで、ノウハウを共有し、これからの互いの事業運営の発展に生かすことを目的とする事業です。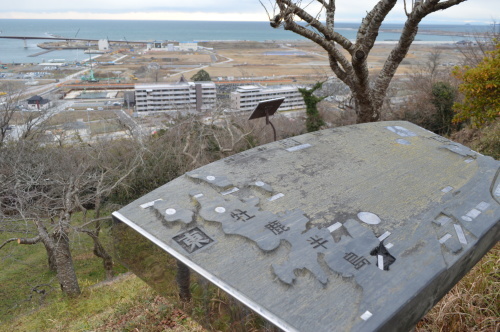 AIR Bridge第2回目は、
Reborn-Art Festival
(以下、RAF)実行委員会の協力により「AIR事例紹介・意見交換会」を開催しました。RAF実行委員会の事務所をお借りし、RAF実行委員会事務局、石巻市役所、石巻実行委員会アートサポート部会の方々、アーティストの有馬かおるさん(現在、石巻拠点)らを対象に、アーティスト・イン・レジデンス事業の役割、アーカスプロジェクトやその他の多様なAIRの紹介をプレゼンテーション形式で発表し、その後ラウンドテーブルで、石巻市の現状のヒアリング・意見交換を行いました。
Reborn-Art FestivalしてはAIR事業を実施してはいませんが、芸術祭にむけたアーティストの滞在制作、その後アーティストが長期滞在しながらその地域や人々に、よりコミットしながら制作活動を行うという状況も自然発生的におこっています。その状況はAIRとしてプログラム化はしていないものの、実際にはAIRそのものともいえます。
将来的に、RAFでAIRを実施する状況も想像しつつ、まずは石巻の様々な立場の方々にAIRがどいうものなのかイメージを膨らませていただける会を設定しました。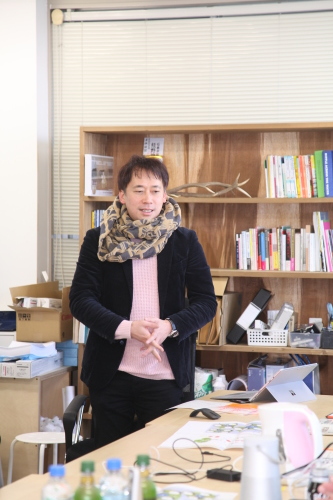 RAF実行委員会の事務局長、松村さんのご挨拶から会が始まりました。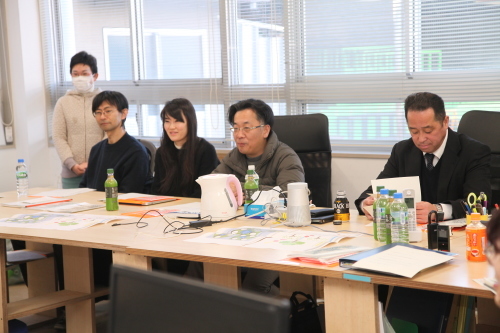 プレゼンテーション:

「

(

なくてはならない

)

永遠のオルタナティヴ

-

アーティスト・イン・レジデンスをひらく

-

」
1.
アーティスト・イン・レジデンス

(AIR)

とは?
2. アーカスプロジェクトの事例
3. さまざまなAIRの形態(ライクスアカデミー、AIR Onomichi)
AIRの起こりについて。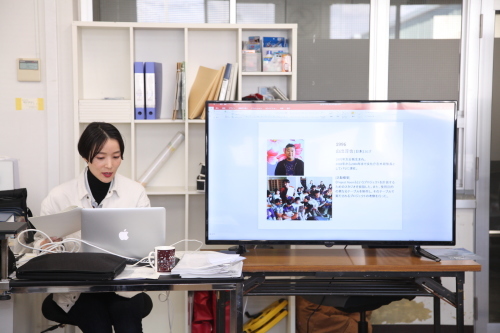 現在多様化するAIRに共通する役割
とは?
ー2012年の文化庁の事業として「諸外国のアーティスト・イン・レジデンスについての調査研究事業」を委託されたニッセイ研究所の報告書「調査研究の総括的まとめ」で述べられている文章を参照しつつー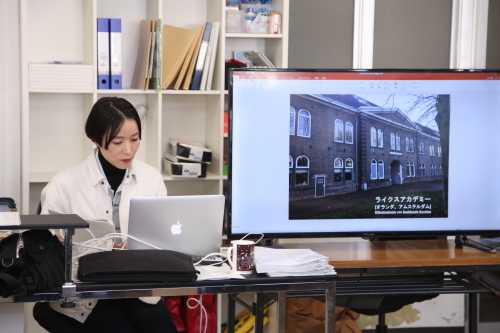 さまざまなAIRの事例として、
規模も指針も運営形態もさまざまな3団体、

アーカスプロジェクト、ライクスアカデミー(Rijksakademie van Beeldende Kunsten、オランダ)、AIR Onomichi(広島)を紹介させていただきました。
「石巻には一体どんなAIRがあったらよいだろうか?」「石巻でしか実現できないAIRはどんなものだろうか?」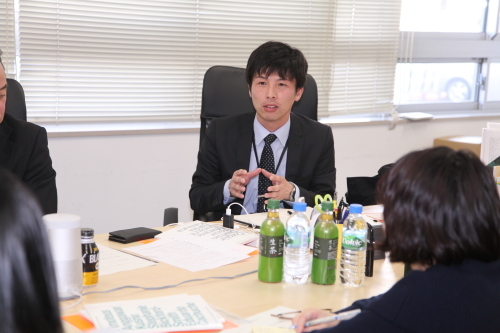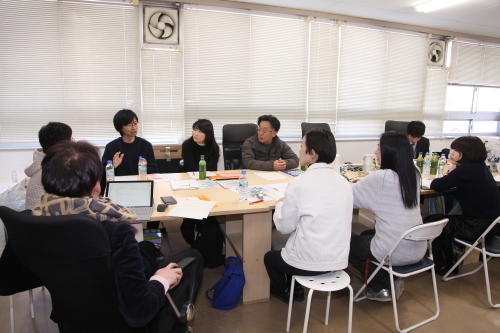 建築に特化するのはどうか。長期滞在型が望ましい。RAFとの連携の可能性は?RAFで発表する作品のための滞在制作は?石巻には漫画の素地がある。漫画家を受け入れてきた経験がある。
などなど。街を様々な角度から見続ける参加者それぞれの意見がでました。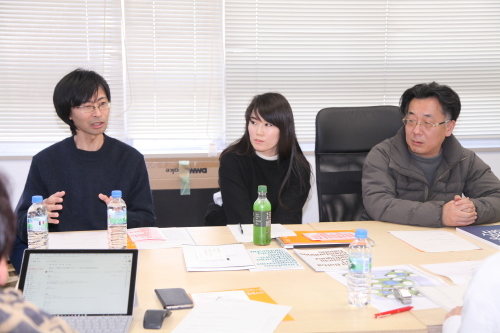 みんなで話した趣旨と少しそれるかもしれませんが、日本では、その場所性を重要視するAIRや、サイトスペシフィックな作品制作への期待が大きく、拠点が移動してしまったら全く機能しなくなる/別物になってしまうケースが多いように感じます。(もしくは、拠点変わることをあまり想定していないケース。)
でも世界に目をむけると、場所(拠点)を移動しながらAIRを継続している団体もあります。場所が変わっても団体が大事にしているアイデンティティを変えないことは可能なのです。
アーカスプロジェクトは守谷に拠点を構えて25年がたちました。拠点が変わらないことで得られるメリットはとてもたくさんあります。アーティストが再び訪れやすいことや、地域に定着しやすいこと、また一定の信頼と安定感をえられることなど...。
でも同時に、場所に頼りすぎない指針をもつこと、その指針を守りながら時代に合わせて新しいアイディアを生み出すことも大切です。
結局、今回の石巻滞在からアーカスが学ぶことの方が多かったように思います。
AIRはアーティストやクリエイターのための場所。
その波及効果として、アーティストだけでなく、彼らを取り巻く人々や社会、国際社会に変化がもたらされる。
そうであるべきだと思っています。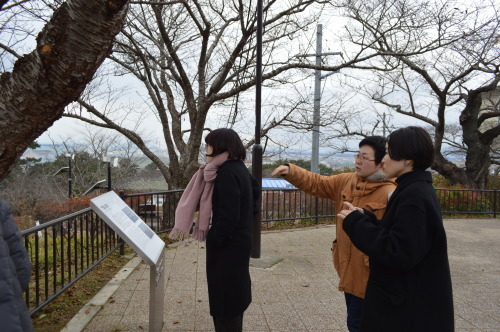 石巻の皆様、どうもありがとうございました。またお会いしましょう!