Reports from Fazal, Wai Keung and Wojciech reflect their experience at ARCUS and of stay in Moriya.
Thank you everyone!
まだまだ記憶に新しい2011年度レジデントアーティストの3人。アーカス周辺では彼らの帰国後もこまめに公私に渡り連絡をとりあっています。みんなそれぞれ元気にやっています。そんな彼らからアーカス滞在に関してのレポートが届きました。お世話になった地域の方々へのメッセージなども含まれているので是非ご覧下さい!
日本語版も追ってアップ致します。
Fazal Rizvi
I was super excited about coming to Arcus. Moriya is the perfect place for an artist to escape to. You have the small city at your disposal, yet you also have the wonders of Tokyo almost just round the corner.
It was lovely to be bicycling around Moriya and discovering it and meeting the locals. And since tokyo was easily accessible it allowed me to take part in certain projects that became quite central to my project and yet i could just escape back to Moriya and think and write and reflect on it all.
The location of the Arcus studios in Manabi na sato was very interesting and vital. That is where we formed connections with the moriyans and interacted with them in different capacities. And it was lovely how open and accepting everyone was. We bonded with many people and even though language was a barrier, we connected through music and food and yoga. The 3 open studios in a way were also means to facilitate us artists with the locals, and by the 3rd open studio we were seeing familiar faces and feeling much at home.
The arcus staff has been most helpful. They work a lot, sometimes to an annoying degree, but it was all for us. They spoil you. You just have to shoot your ideas, and tell what you want and it won't be long before they are at it and pulling all strings to organise things for you. Even though in some cases it was not always favourable for us, but they stood by the artists and that was strength enough! 
I also had the privilege of Moriyan hospitality. I got to stay with the Masuki family which was a great experience and very thankful to them for it. It was very nice to be living in a japanese home and sleeping in the tatami room. I also formed many friendships in Moriya and was generally amazed how helpful and nice everyone was. And can't wait to come back for the residency this year again! :P
Wai Keung Hui
I came to ARCUS with my wish to work with locals. As a result, I not only worked on my art projects with locals, but also ate with locals, drank with locals, talked with locals, and even became friends with locals. I will forever cherish all the wonderful experiences in my memory. 
The atmosphere in ARCUS gave me space and resources to do crazy experiments. Beside working with locals, I tried my hands at launching a long-term conceptual project, and doing performance with other artists. I admit that I did not manage well during the time. I obviously found difficulty in handle projects with such scale. However, I am sure that I will do better next time, and I expect that I will do more ambitious projects after this residency.
Residency programs grant me the opportunities to live in other countries. I think that this is the most valuable part of artist-in-residency. I was so naive to believe that I knew Japan, because I have already read some of her literature and cultural analysis. Of course, it proved that I was wrong. Having been living in Japan for three months, I know Japan more. At the same time, I learnt that there are still lots of things I don't know. I regret to spend too much time to settle and study. If this was not the case, I could do more to respond the city.
Wojciech Gilewicz
Arcus experiment
Arcus project was time of experimenting. Already the very first meeting in Manabi-no-sato encouraged me to abandon the plans and ideas that I had formulated at home. I decided to take up something novel, seek inspiration and experiment. It was my second stay in Japan and for this reason I found most suitable to observe this foreign culture from a different perspective. I also wanted to distance myself from the actions I had performed earlier that became some kind of an artistic burden to me.
Each and every journey gives us a chance to work intensively on a project that is combined with personal experiences and finding your place in culturally distant circumstances. It results in meting new people and establishing relationships that remain in your memory for a long time. Asako, Cecilia, Fazal, Gosuke, Harumi, Keisuke, Kohei, Mami, Miyuki, Mizho, Satomi, Teruhiro, Takako, Wai Keung – these are the names of people that sound smooth and  intriguing in Polish. They stand for those I had the chance to observe and learn from. And in turn by means of such confrontation with others I got to know myself better.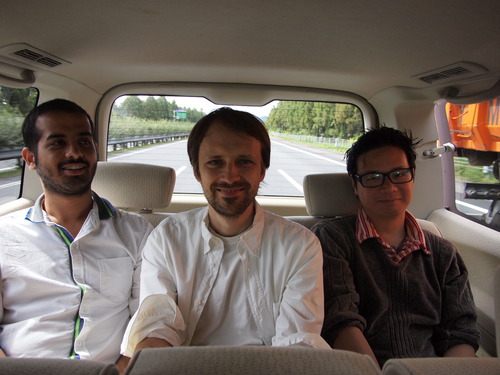 The resident artists on the way to the Ibaraki gavernment office in Mito. (Photograph by Chihiro Nishio: Japanese guest artist of 2011)
茨城県庁へ行く道中の3人。[撮影:日本人ゲストアーティスト 西尾千尋さん]