Cihad Caner
During my time in Japan, I had a chance to develop the idea of my current project "Demonst(e)rating the untamable monster". It was an important period for me to focus on the pre-production part of my work. I think the amount of time was not enough to finish this work, however it was enough to develop it and do some new experiments with different mediums. For instance I had a chance to test new mediums in my practice, lecture performance and drawings during the five days open studios event.
I think Moriya's location is a perfect place to focus only on the project. You are not in the middle of Tokyo, which gives you a great opportunity not to disturb yourself from the magical atmosphere of it. It is also quite nice how you interact with local residents of Moriya. They remind of me of Turkish people who help you more than you ask. I was feeling at home, when I was surrounded by local Moriya residents, who helped me during my research, building up period.
I also want to mention the guest curator Kodama Kanazawa. Her feedbacks were really helpful for me to develop my project during my time at Arcus Project. She was literally thinking with me, instead of just giving references. Additionally, I also found important the talks that Kodamasan organized during the open studios. It was interesting to hear, different curators' reflections on your work.
Arcus project is a special artist in residency program for me. The longest residency I did, which opened new paths in my artistic practice. It thought me a lot! After finishing the program, you understand why Arcus Project is the longest and oldest artist residency in Japan.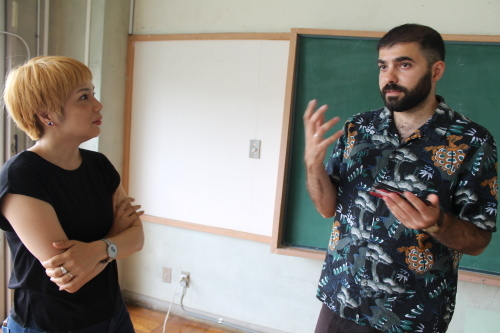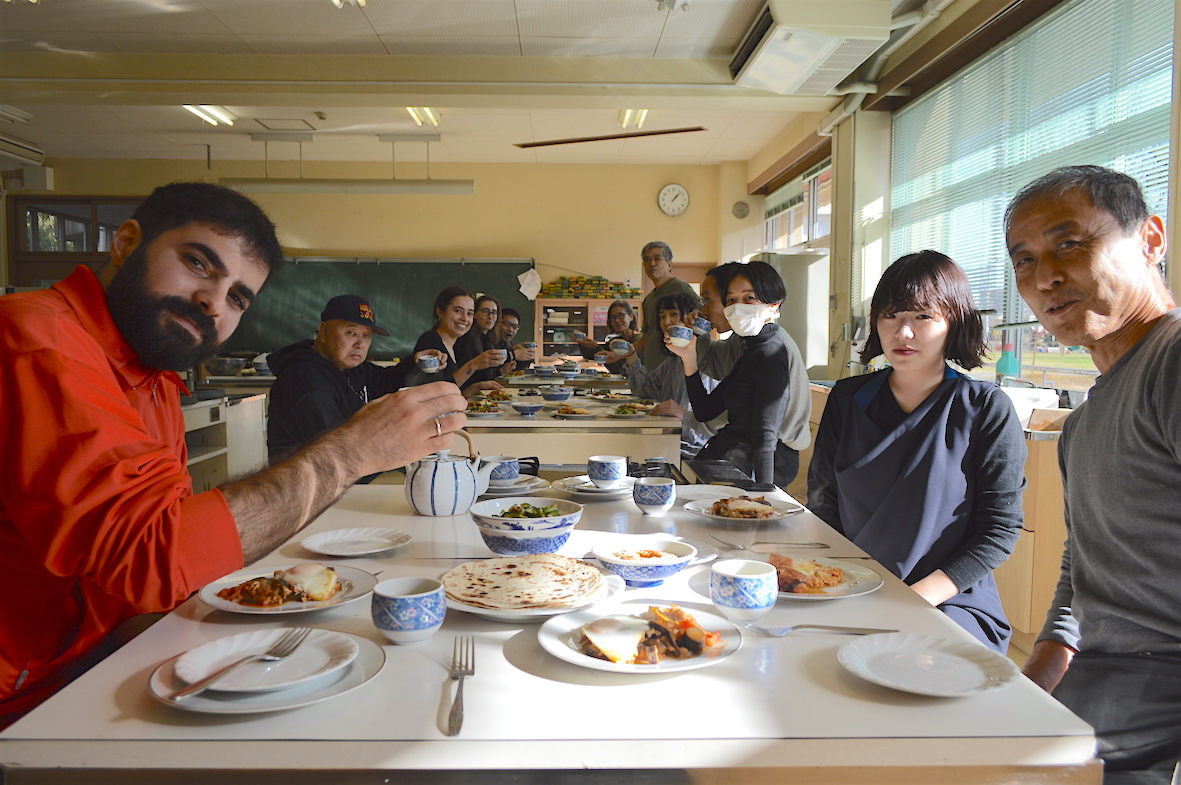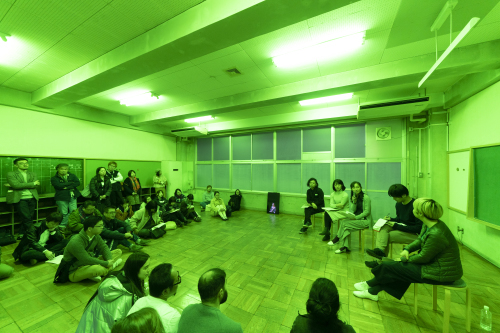 --------------

Erika Ceruzzi
It's bittersweet to summarize the ARCUS experience as succinct feedback. The residency is an immersive environment aimed to steer one's practice towards exploring Japanese culture from the outskirts of Tokyo's metropolis. It was an incredible, tranquil place to be based. ARCUS enabled me to reshape my methodology to incorporate cross pollination with sites and institutions that would have otherwise been inaccessible.
To conduct and showcase a research project within the timeframe of this residency is a tough proposition. It was important to plan outreach and fieldwork from the beginning. The ARCUS staff are beyond supportive. They became crucial to informing my conceptual framework and execution plan. Through our collaboration, I met with specialists behind the scenes of biotech research institutions, silkworm farms and silk reeling factories.
ARCUS encouraged a deeply focused inquiry for me. The program is thoroughly planned out from beginning to end. It is structured so that artists remain on track with their projects. Although there was ample solitude, there was not much privacy. Artists must meet the requirements of the residency, report their activities in various ways, and be cooperative with the constant photo documentation of their process. While an awareness of cultural difference colored my experience of the day to day, it drew me closer to my practice, and challenged me to make work that could communicate with a multilingual sensibility. The culmination of the residency at open studios allows each artist an incredible platform to share their work with the community, renowned curators, and the extended contemporary art scene in Japan. I made acquaintances during my stay who will remain a part of me forever. I am so grateful that my first encounter with Japan was guided by the ARCUS program.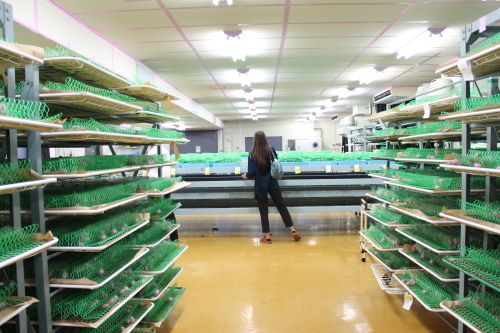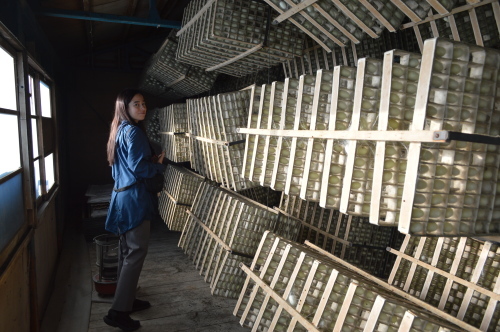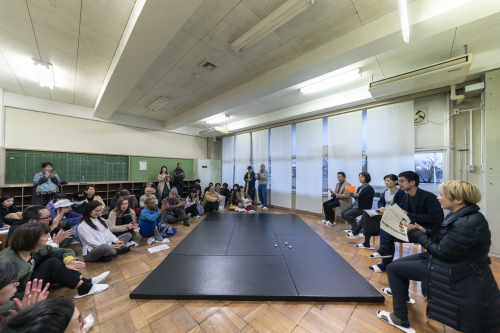 --------------
Erica van Loon
From the moment I arrived in Japan I entered a bubble where everything is slightly different; on a daily basis I would learn something new. And even time was different; it seemed to stretch while my working process simultaneously seemed to accelerate. The incredible amount of support by the coordinators of ARCUS Project was vital in this experience, both on a personal and on a professional level. Their contribution to my working process was extensive and beyond any expectations I had. They anticipated every part of the process, but made sure to keep enough flexibility for my research to move in unexpected directions, they were with me every step of the way. Their mediation provided access to sources in ways that I wouldn't have had on my own; I got to work with and be part of the local aikido community; I talked with scientists from the Center for Geophysical Observation and Instrumentation of the University to Tokyo; hiked up the sacred Mount Oiwa with a team of specialists from the North Ibaraki Geopark; and made sound recordings of traditional singing bowls.
I think ARCUS Project does a wonderful job at engaging local people and (art) specialists from near and far. I was honored that the program provided multiple opportunities to share my work in progress and my practice in general, during talks at universities, event spaces and the Open Studios. The Open Studios are a key element of the residency. It was very rewarding to work towards a presentation and share my project with so many people. One of the many highlights was the Riddling Dialogues, where multiple curators reflected on each of our projects and provided many new perspectives. These open discussions were a concept by curator Kodama Kanazawa, who along with the ARCUS team, gave valuable feedback and cheered my research throughout my residency.
A 110 days was a good amount of time to get to feel at home and to be able to grow a fruitful context for working, to really become part of a community, the ARCUS project community, but also the community in Moriya and the art world in and around Tokyo. It was a perfect combination to have both the closeness of such a big cultural hub and to be able to withdraw and focus in a more intimate environment. It still feels heart warming that I was surrounded by so much generosity and care, from the ARCUS team, the volunteers and all the other people that contributed to my work. I feel like I've left behind a parallel universe, but what remains are many memories of enriching experiences, new friends and a project that keeps on expanding.
Thank you, Yumiko San, Aruma San, Mizuho San, Kodama San and all the other wonderful people that made my project possible. I could not have done this without you!