Interview with Resident Artist 2012.
Özgür Demirci
Eunju Yoo
Basir Mahmood
Project Images of each artist at final Open Studio.
Özgür Demirci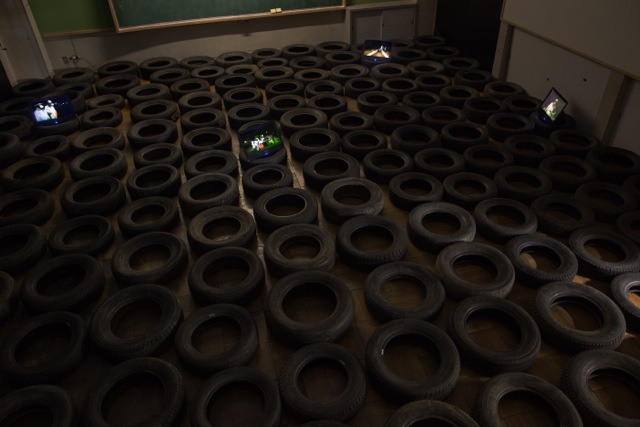 The Tuners
Video installation
In the past, Demirci had worked with a group of young people in Istanbul who modify cars and cruise in them across the city. His project in Moriya started with his interest to find out whether a similar community exists in Japan, and if the act of driving illegally modified vehicles is functioning as a counter-culture against the social system and centralized power. He interviewed a number of people who modify their cars, and found that the activity is not necessarily motivated by the feeling of resistance against society or the system; rather it's a hobby that remains inward looking, or on the border line of the law and social norms.
In the video installation, five monitors are placed randomly on old tires covering the entire floor. The monitors show videos of a group of young people riding motorbikes, or talking about themselves and how they consider the public or the police in order not to violate them. The gaze of the artist here seems to be suspending any form of judgment and trying to understand them as individuals. In order for the audience to see the videos, they are required to walk on the tires. By constrcuting this agitating space, Demirci seems to be reflecting inner conflicts and contradictions untold in the young people's conversation, as wel as hidden prejudices against them.
Eunju Yoo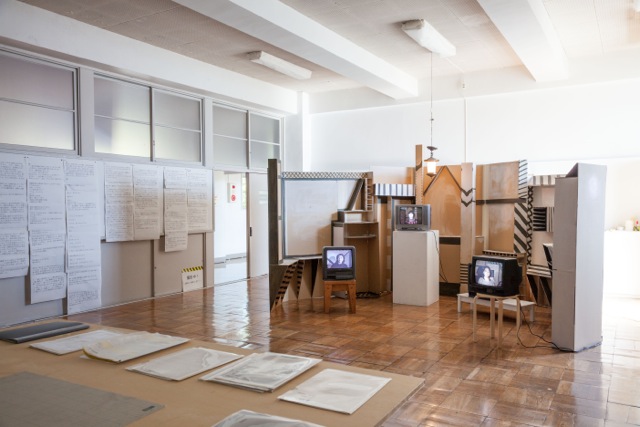 Moriya Fantasy: A Short Study of Suburb Vol. 1
4-channel video installation
31' 00"
Enju Yoo produces performances and videos based on narratives that take shape through workshops and interviews. For her project at ARCUS, she worked with a group of women in their 30s and 40s who have families in Moriya. Yoo organized a series of workshops that started with participants describing their daily lives through to exploring their inner worlds, which otherwise remain untold. The scripts therefore include various forms of narratives –their actual experiences, imaginative episodes, or even rumors. According to Yoo, the way in which they composed their narratives seems to be influenced by their hesitation and a sort of defense mechanism against revealing hidden states of mind.
Yoo created an abstract folding screen as a background, incorporating elements from Japanese domestic spaces and architecture. There, the women's voices are telling their own stories, which seem to be conversing with each other; but at the same time, the voices seem to be reaching no particular point.
Basir Mahmood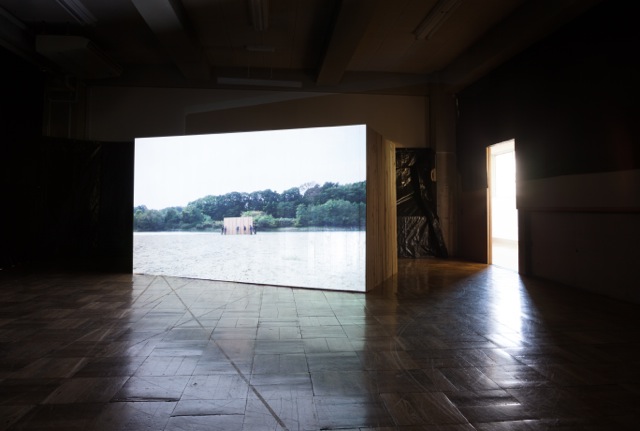 In a move, to the better s
ide
Single-channel video installation
5' 40"
Mahmood, who continues to travel across continents, took interest in how people came to be in Moriya and start their lives here. He researched the city's history and development, while traveling around Moriya to observe a variety of spaces and sites. Mahmood's practice is such that he transforms all the specific research elements into very poetic and abstract visual expressions. The video work 'In a move, to the better side' was shot on the Kokai riverside in early November. His camera captures a group of people in the process of constructing a large wooden structure little by little, collectively moving parts of it around. Whether the structure they are carrying is a house or a box, or where exactly they are heading, is never clearly indicated in the film, yet the abstract narrative richly insinuates the viewer's own imaginative associations.
Taihei Kimura
(Japanase Guest Artist)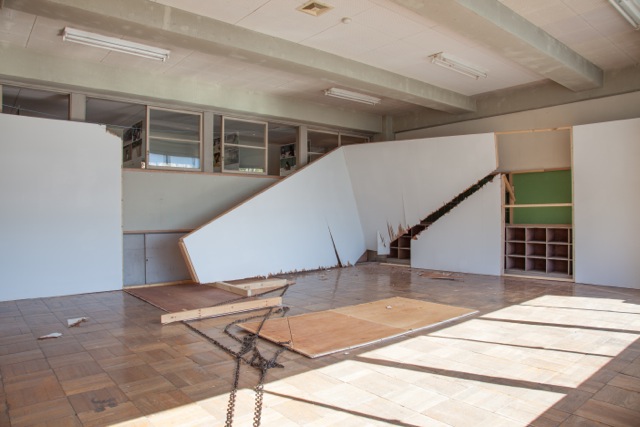 Yet to
Be
Installation
Kimura captures the energy of explosions or centrifugal forces in his sculptural works. His work includes a series of objects crystalizing the moment of collision between opposite energies, or recording a long repetitive action by the artist, who spills resin as though it were liquid, scattering and spinning it.
The artist's intervention into such dynamics has been expanding to engage a wider context. For his project in ARCUS, he made a performance in which he attached chains to the white wall of the studio, and pulled this with a truck from outside, tearing it into pieces. The idea came from his observation of Moriya Manabi no Sato, the repurposed school building in which ARCUS Studio is located: that is, the lack of connection between people working in the ARCUS Studio and those doing different activities in other spaces. Kimura found the white temporary wall that had been positioned in order to make an old classroom into a studio, artificial and out of place. The performance is a symbolic representation of such ideas and invokes different movements and energy, while opening the way for new imaginings and meaning.
All text written by Che Kyongfa (Guest Curator 2012), Photo by Akira Yasuda
Please see other activities of our AIR Program.